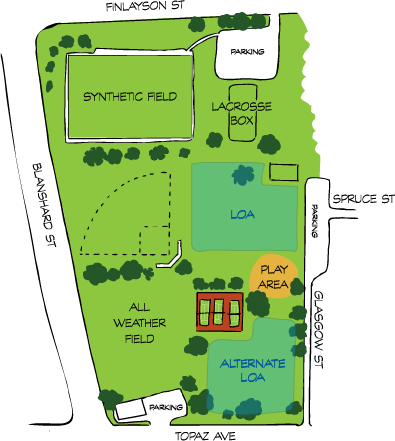 Where: Between Finlayson St and Topaz Ave, on the east side of Blanshard St.
Details: Dogs are permitted off leash:
Mon - Fri: 6am - 10am & 4pm - 10pm
Sat - Sun: 6am - 8am & 5pm - 10pm
There are 2 Leash Optional Areas (LOAs) within Topaz Park. The main off leash area is Glasgow Field, which is adjacent to the parking lot at the end of Spruce St (off Quadra St). The alternate off leash area is southeast corner of the park, near the corner of Topaz and Glasgow St. Dogs are prohibited from the playground area, lacrosse box, tennis courts, or the synthetic fields. Areas of Topaz Park are sometimes closed due to community or sporting events and in the winter due to muddy fields. At these times dogs are not permitted in those areas.