For any questions or issues involving dogs in Colwood, please contact CRD animal Control at (250) 478-0624. VACS does not provide services to Colwood and has posted this information for convenience only.
Dogs are allowed off leash in Colwood's Municipal Parks, except for Esquimalt Lagoon Migratory Bird Sanctuary including Coburg Peninsula.
Below are a few favorites:
Colwood Creek Park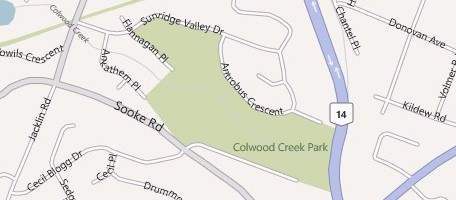 Where: On the North side of Sooke Rd, bordered by Millstream Rd to the east. Access via Cecil Blogg Dr, Flannagan Pl, or Sunridge Valley Dr
Details: At 129,058 sq metres, Colwood Creek Park is one of the largest in the City. It has a large open grassy area great for running and ball throwing. There is parking on Cecil Blogg Dr, which is just off Sooke Rd.
Havenwood Park

Where: Off Veterans Memorial Parkway just before it meets Latoria Rd. There is also an access off the end of Desmond Dr.
Details: This 16 hectare park is undeveloped besides a network of walking trails.