City of Victoria - it is unlawful to feed or leave food out for:
Deer, Raccoons, Squirrels, or Rabbits (anywhere in the City)
Pigeons, Crows, or Gulls (only within the Prohibited Wildlife Feeding Area)
The Prohibited Wildlife Feeding Area is the downtown core and shoulder areas. Generally defined as follows: Bay St is the NORTH border, Cook St is the EAST border, Superior St is the SOUTH border and the Inner & Upper harbours are the WEST border.  Fines range from $125 to $350.
See Schedule E of the Animal Responsibility Bylaw 11-044 (amendment 12-021) for the specific boundaries.
NOTE:  Food thrown on to the ground such as: bird-seed, hen-scratch, peanuts, cat kibble, animal food pellets, vegetables, fruit, bread, crackers, rice, corn, grains, granola, eggs, meat, etc. is feeding wildlife.  Regardless of one's intent to only feed birds - throwing food onto the ground feeds wildlife.  Persons who purposely feed any bird in this manner will be ticketed for unlawfully feeding wildlife but only after receiving a warning from an Officer.
Persons who purposely attract; Crows, Gulls, Pigeons, Starlings, Ducks or Canada Geese to their property in a residential neighbourhood frequently become very unpopular with their immediate neighbours.
Typical complaints involve:
Noise,
Odours,
Feces = frequent car & window washing,
Excessive house-flies,
Damage to plants & roofs
Increase in the number of rats
Feeding song-birds, seed, millet or suet from a bird-feeder is generally not an issue for anyone.  Neither is feeding hummingbirds from a hummingbird-feeder.
Persons who want to feed birds should educate themselves about the appropriateness of feeding birds and consider the many consequences that free-feeding will cause (positive / neutral / negative). 
---
Oak Bay - it is unlawful to feed or leave food out for;
Deer, Raccoons or feral Rabbits (anywhere)
 
---
Esquimalt - it is unlawful to feed or leave food out for;
ANY WILDLIFE including: Deer, Raccoons, Squirrels, Canada Geese
Or:  permit fruit from a tree or bush to accumulate on the ground that it attracts wildlife or deer
        See - BYLAW 2826 MAINTENANCE OF PROPERTY & NUISANCE REGULATIONS
---
HUMAN / WILDLIFE CONFLICTS
If you observe dangerous wildlife (cougar, bear, wolf) in an urban area, please report the incident to BC Conservation at  1 (877) 952 7277 or call 911.
BC Conservation does not attend incidents such as complaints about nuisance wildlife or instances where conflict situations can be prevented through management techniques or by making adjustments to our daily behaviours.  Nuisance encounters with wildlife include conflicts with racoons, squirrels, skunks, crows, geese, deer and other ungulates. 
In the vast majority of these situations simple actions will help eliminate the problem, such as:
install barriers such as fences or nets to keep deer out of gardens
plant vegetation that does not attract wildlife 
remove food attractants such as garbage and bird seed
secure composts, remove fruit as it ripens, pick up windfalls, do not leave pet food outside
secure buildings to prevent access to roofs, attics and crawlspaces
ensure vulnerable livestock are securely confined at night, especially chickens and other poultry
install scare devices
---
INJURED WILDLIFE
If you observe injured wildlife in Greater Victoria call the WildARC facility in Metchosin and seek their advice before doing anything.
If the wild animal is in the following state or circumstance it may need assistance:
adult animal that can be easily captured
animal seriously favouring a leg or wing
animal sitting on a road & not moving for traffic
bleeding
having difficulty breathing or convulsing
a bird sitting with its feathers puffed-out and not moving for a long period
a bird running on the ground when others fly away
In most cases, leave baby animals alone!
Be concerned only if they appear to be emaciated or have obvious signs of injury.
WildARC instructions for capturing and confining a wild animal in need:
Do not handle any wild animal if doing so risks your safety or the safety of others. If you are injured, you cannot help the animal. When in doubt, do not attempt capture and call WildARC for advice.
Use a towel to cover the animal's head to calm it down and reduce shock.
Do not handle or pet the wild animal, this just creates more stress and may lead to deeper shock - many wild animals in shock in fact look like they are resting. Keep a safe distance from the animal, and do what you can to protect it from harassment by pets or other people.
Wear gloves and protective eyewear for long-billed birds.
Do not offer the animal food or water, and do not leave food or water in the box with the animal (except hummingbirds which must be given a sugar-water solution immediately, and every 30 minutes thereafter to avoid dehydration). Because the animal has not been medically examined, it is impossible to know the exact extent of its injuries. Feeding the animal or forcing it to drink water at this point could cause death. As with humans, hospitalized animals need to be very gradually rehydrated and fed using special formulas and techniques. Wild animals have specific dietary requirements that are unique to each species - feeding the wrong food can greatly impact the animal's health.
Prepare a well-ventilated, covered box of appropriate size by lining it with something absorbent, like newspaper or clean cloths (without holes or ragged or fringed edges). If you have no other alternative, wrap the animal in a towel or sweatshirt for immediate transport to a wildlife rehabilitation centre.
Place the box in a safe, quiet, dark place that is free from noise and pet and human traffic. Place a heating pad, set on the lowest temperature, underneath half of the box. This allows the animal some room to move away from the heat if it gets too warm. Do not use a heating pad if it is a hot day.
Do not attempt to treat the animal's injuries. The best treatment possible is to leave the animal as is until it can be transported to a wildlife rehabilitation facility. Additional handling causes stress and improper treatment can cause further injury. One exception is if the animal is bleeding excessively. If this is the case, simply apply gentle pressure to the wound to stop the bleeding. Do not apply a tourniquet of any kind.
Wash your hands immediately afterwards as many wild animals can transmit diseases to you, your children, and your pets.
Do not attempt to rehabilitate the wild animal on your own. Each animal has nutritional and care needs that are highly specific to its species. Call a licensed wildlife rehabilitation facility to arrange to drop off the animal.
In general, WildARC does not recommend that members of the public handle wild animals unless the animal is in critical distress and needs to get to help quickly. The stress of capture by humans is a significant cause of death in wild animals. If you have to handle a wild animal, protect yourself from teeth, claws, and talons. Feathers and bone are fragile, so handle wild animals firmly but gently!
To make an injured animal as comfortable as possible during its transport:
Place the animal's covered box securely on the seat or floor of your car - preferrably not beside the pet dog!
Keep the car warm and quiet (no radio, minimal talking) while you travel. Keep all windows rolled up for safety and warmth.
Do not let anyone, especially a child, hold the animal on his/her lap during the trip. It is very important to think first about what the injured animal needs and remember that contact with people is always stressful for the animal.
Once the animal arrives at a rehabilitation center, it will be treated by experienced staff who will ensure that it receives the best care possible. Do not try to remove the wild animal from the box yourself.
Where to take injured wildlife?
Injured wild animals can be taken to Wild A.R.C. located at 1020 Malloch Rd., Metchosin, B.C. (off Rocky Point Road).
Hours of operation:
May to August:   8:00 a.m. to 6:30 p.m. (7 days/week)
September to April:   8:00 a.m. to 4:30 p.m. (7 days/week)
Injured wild animals can also be taken to the Victoria Branch of the SPCA - 3150 Napier Lane (at Burnside Rd. E.)
Hours of operation:   10:00 a.m. to 5:00 p.m. (7 days/week - except on Statutory Holidays)
NOTE:  As of July 1, 2021 Central Victoria Veterinary Hospital will no longer receive sick, injured or orphaned wildlife.
Wild ARC's Authority
Wild ARC is permitted annually by the BC Ministry of Forest, Lands and Natural Resource Operations to rehabilitate raptors, mammals, amphibians and reptiles, and by the Canadian Wildlife Service, to treat migratory birds. The facility does not have the appropriate caging nor is it permitted to care for large carnivores such as bear and cougars. Seals and other marine mammals are rescued and emergency medical treatment is administered until the animal can be transferred to a facility specialized in marine mammal care.
Information for this section was obtained from the BCSPCA WildARC website: http://www.spca.bc.ca/branches/wild-arc/
---
Dogs Chasing/Attacking deer or other Wildlife/Birds
Deer and many other wild creatures live in Greater Victoria parks, beaches and neighbourhoods.
If your dog pursues or attacks a deer or any other wild animal you may be subject to a MUNICIPAL, PROVINCIAL or FEDERAL penalty.
Municipal    Animal Control
Provincial   BC Conservation                           1(877) 952-7277
Federal      Wildlife Enforcement Directorate   1(888) 569-5656  to report Bird Sanctuary violations  
Dog owners should be extra vigilant when supervising their dogs to prevent any harassment or contact with a wild animal/bird. 
VICTORIA HARBOUR MIGRATORY BIRD SANCTUARY
The entire Victoria waterfront from Ten Mile Point in Saanich to McLoughlin Point in Esquimalt is a Migratory Bird Sanctuary and includes the Gorge Waterway, Portage Inlet and the Esquimalt Lagoon in Colwood.  It is unlawful to permit a cat or a dog to chase, molest or attack any bird in this area.  Dogs must be leashed on all beaches unless signage dictates otherwise.
Many dogs like to pursue birds along the water's edge and although it looks like a lot of fun for your dog - please DO NOT permit your dog to do this.  Birds feed on the beaches and in the shallow waters and tide pools.  Every time a bird has to take flight to avoid a dog it consumes a lot of energy and disrupts their feeding.  Birds can only feed where the food is they don't have choice - they go where the food is.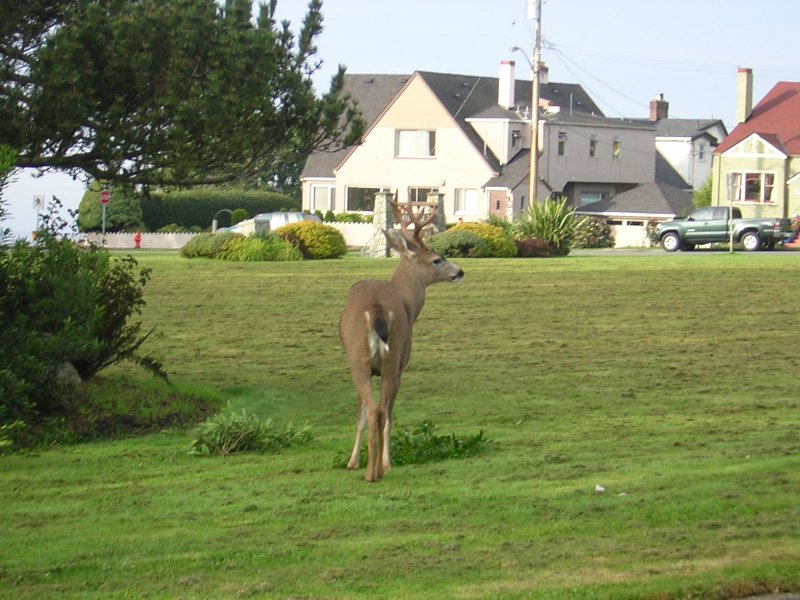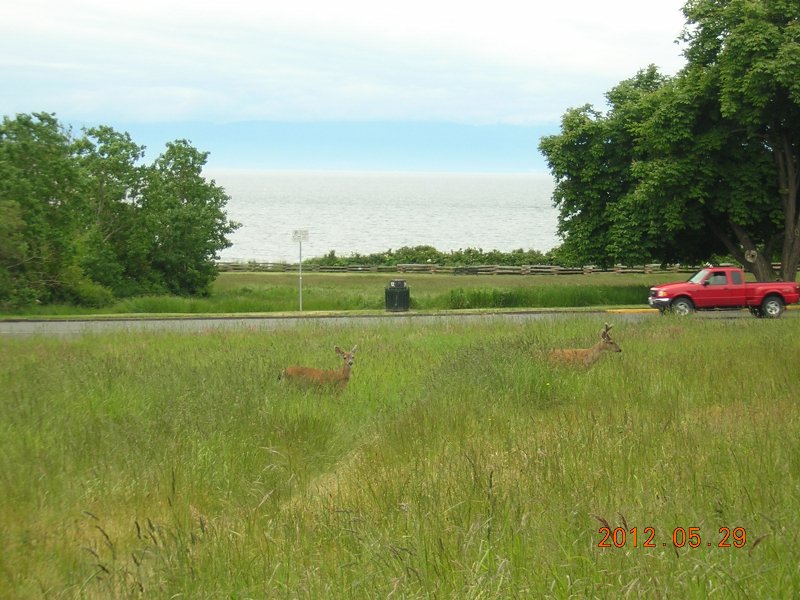 Deer on the lawn by the Mile Zero marker.                                     Two deer in the grasses opposite the Leash Optional Area.
Other Wildlife Information:
Each week we receive dozens of phone calls and emails about a wide range of animal related issues that fall outside our authority.  Below is a list of links that may have the information that you are looking for: